Treetops Cabin Rental

A spacious cabin rental near the Ocoee River and McCaysville with wrap-around deck and mountain views.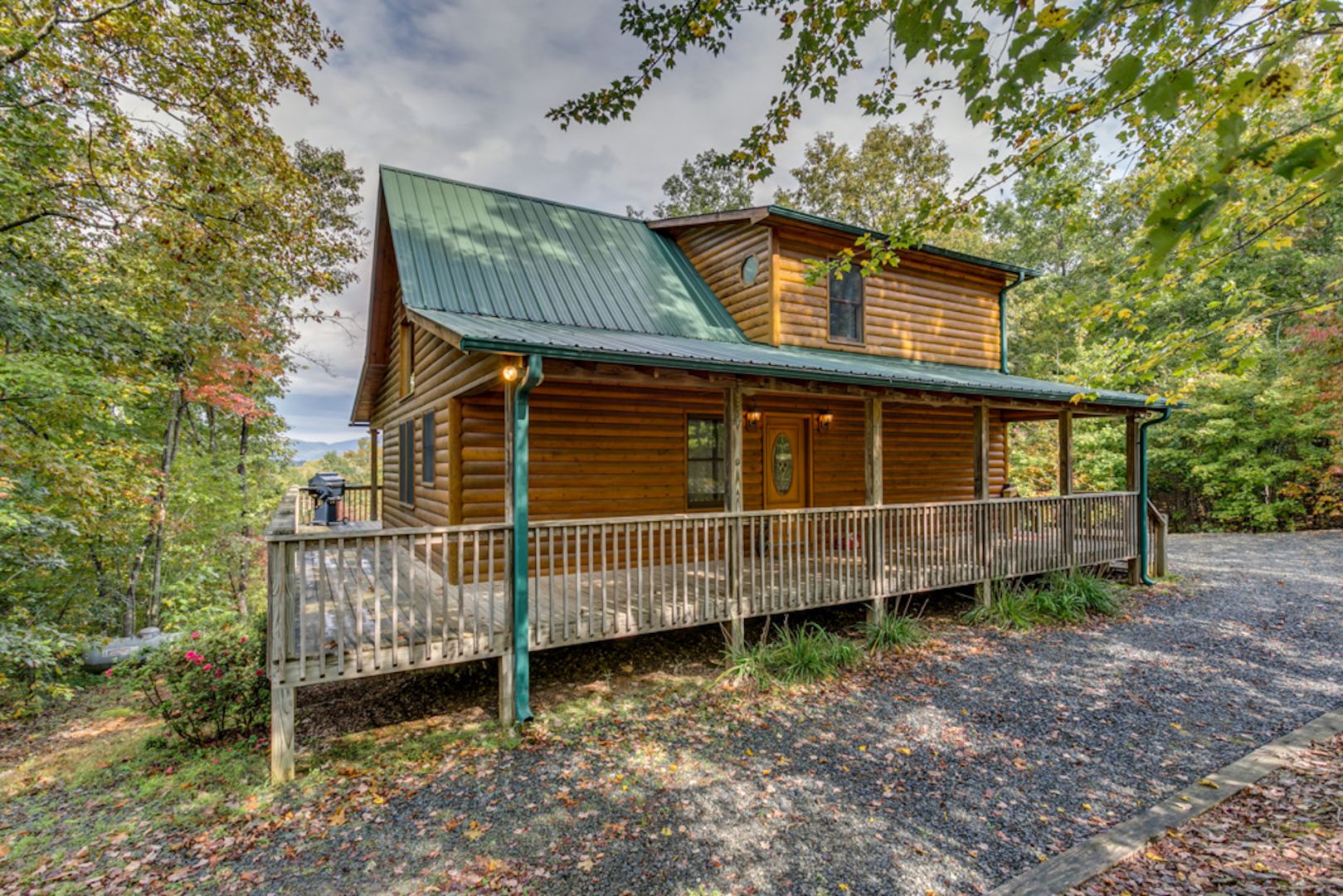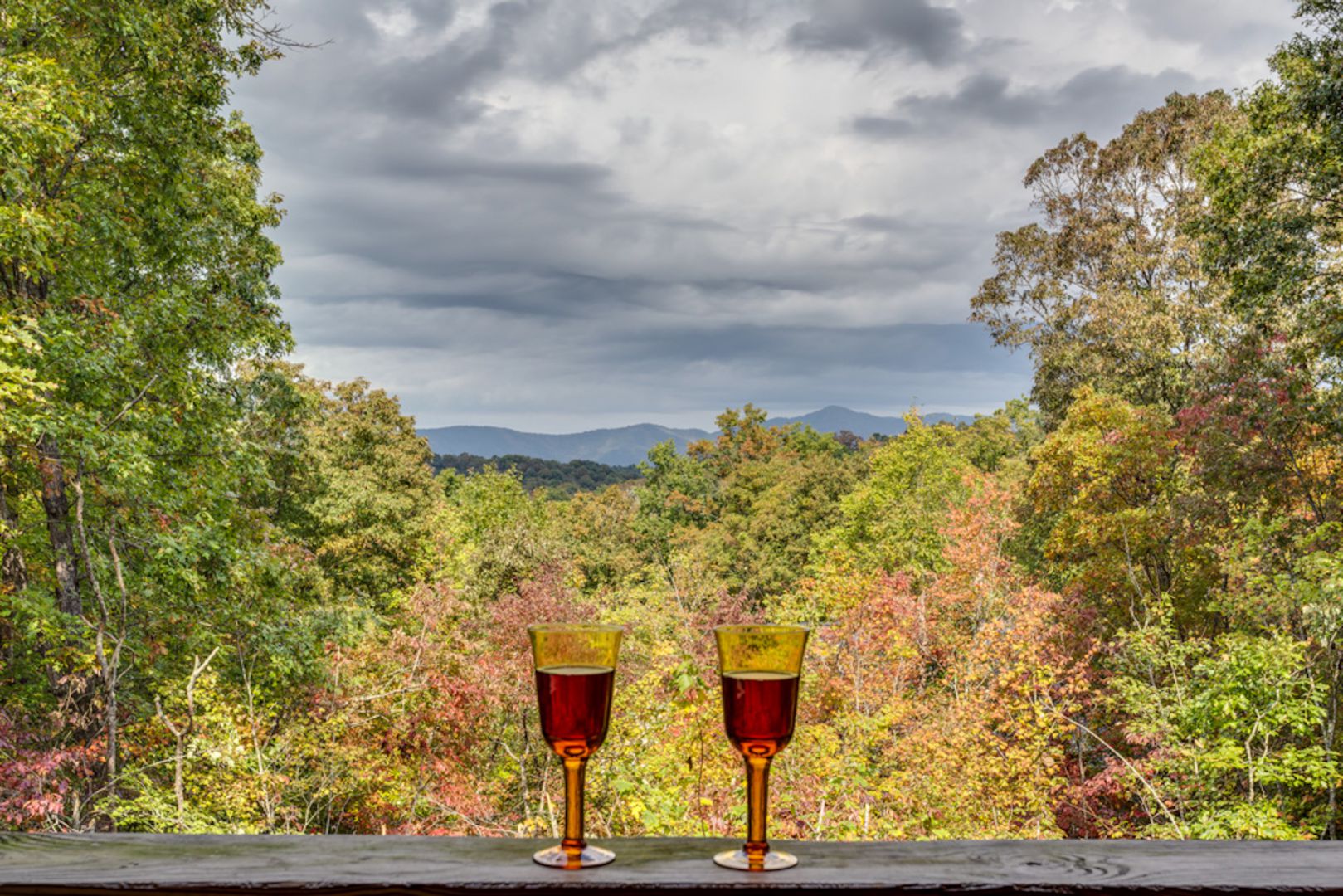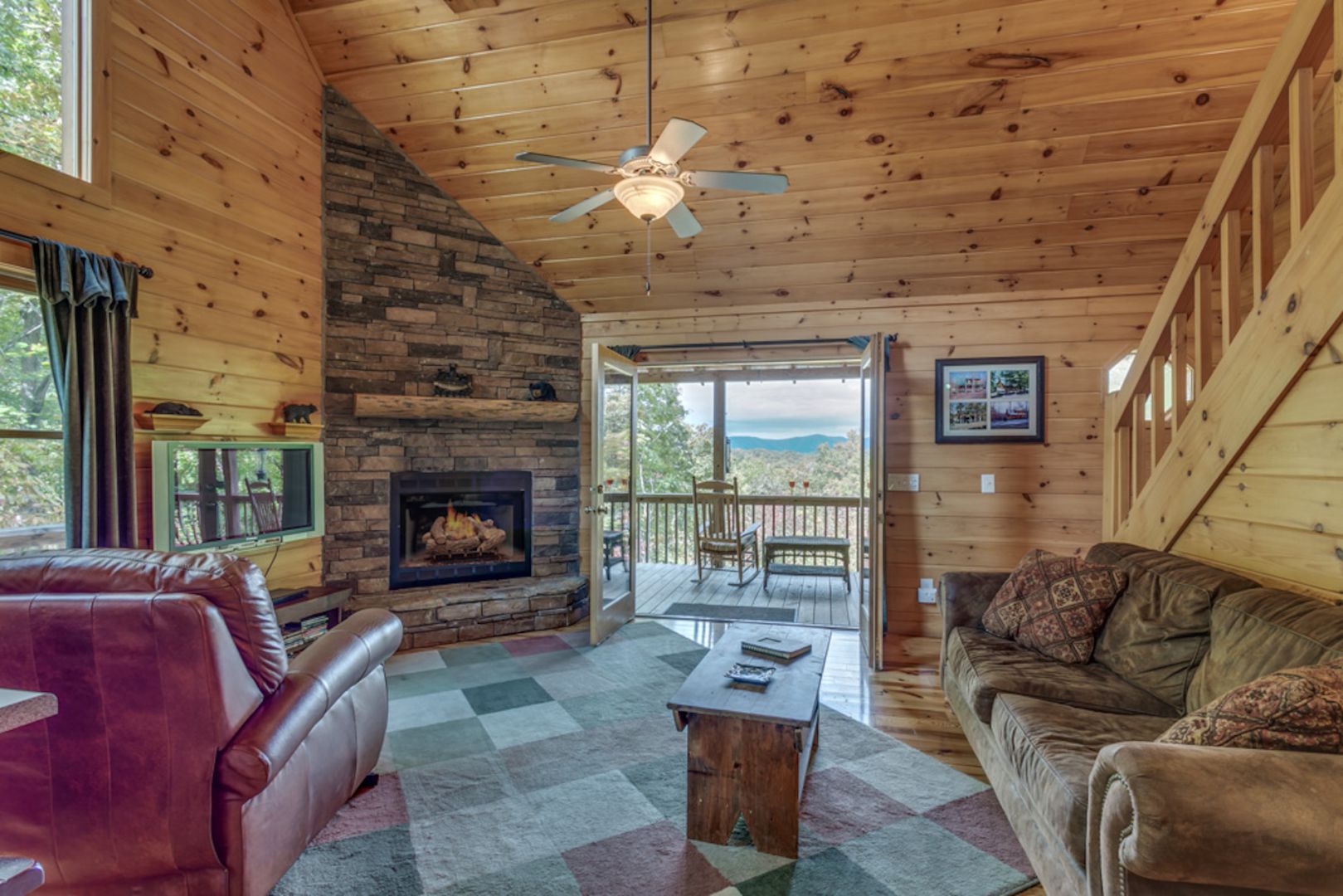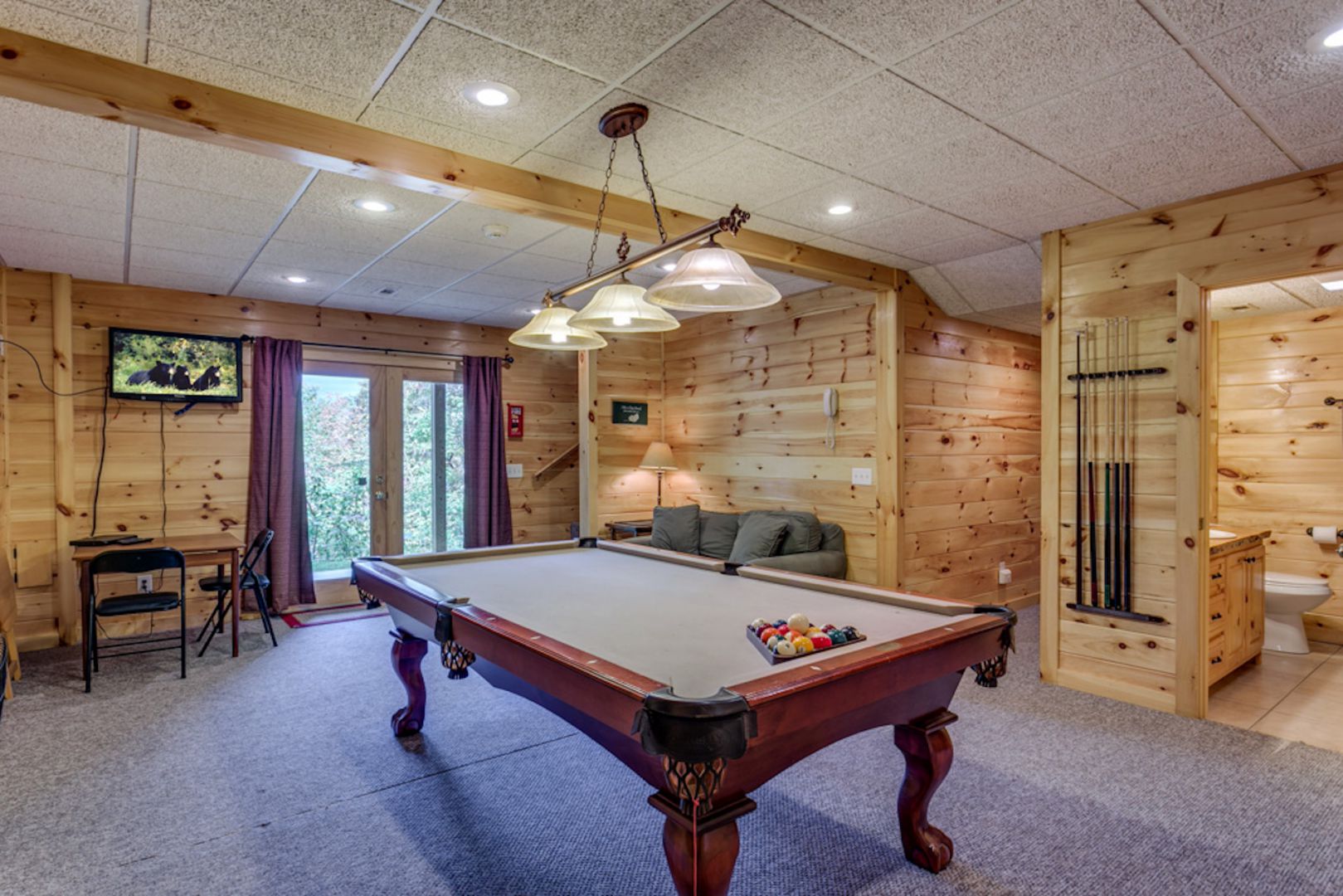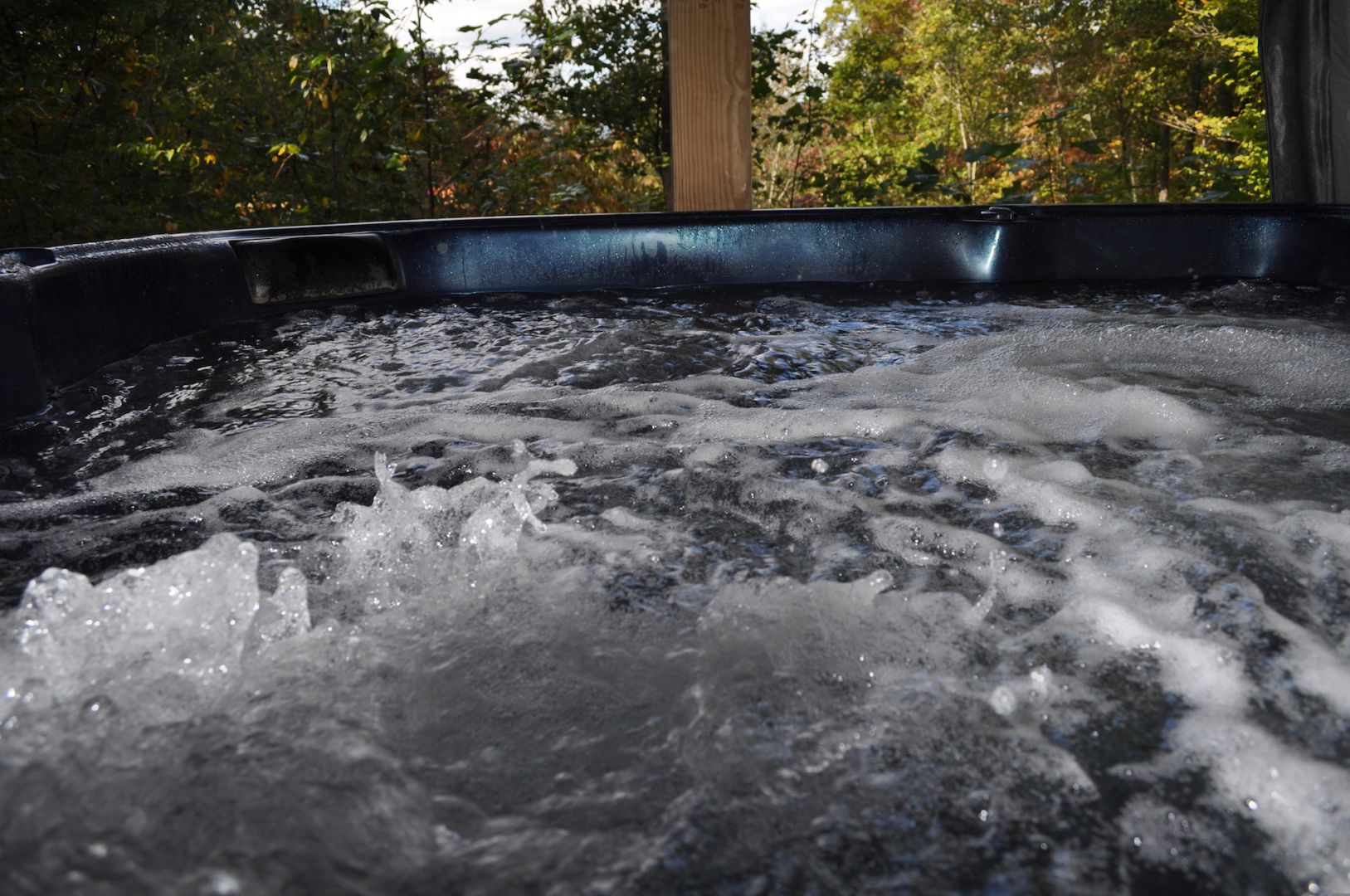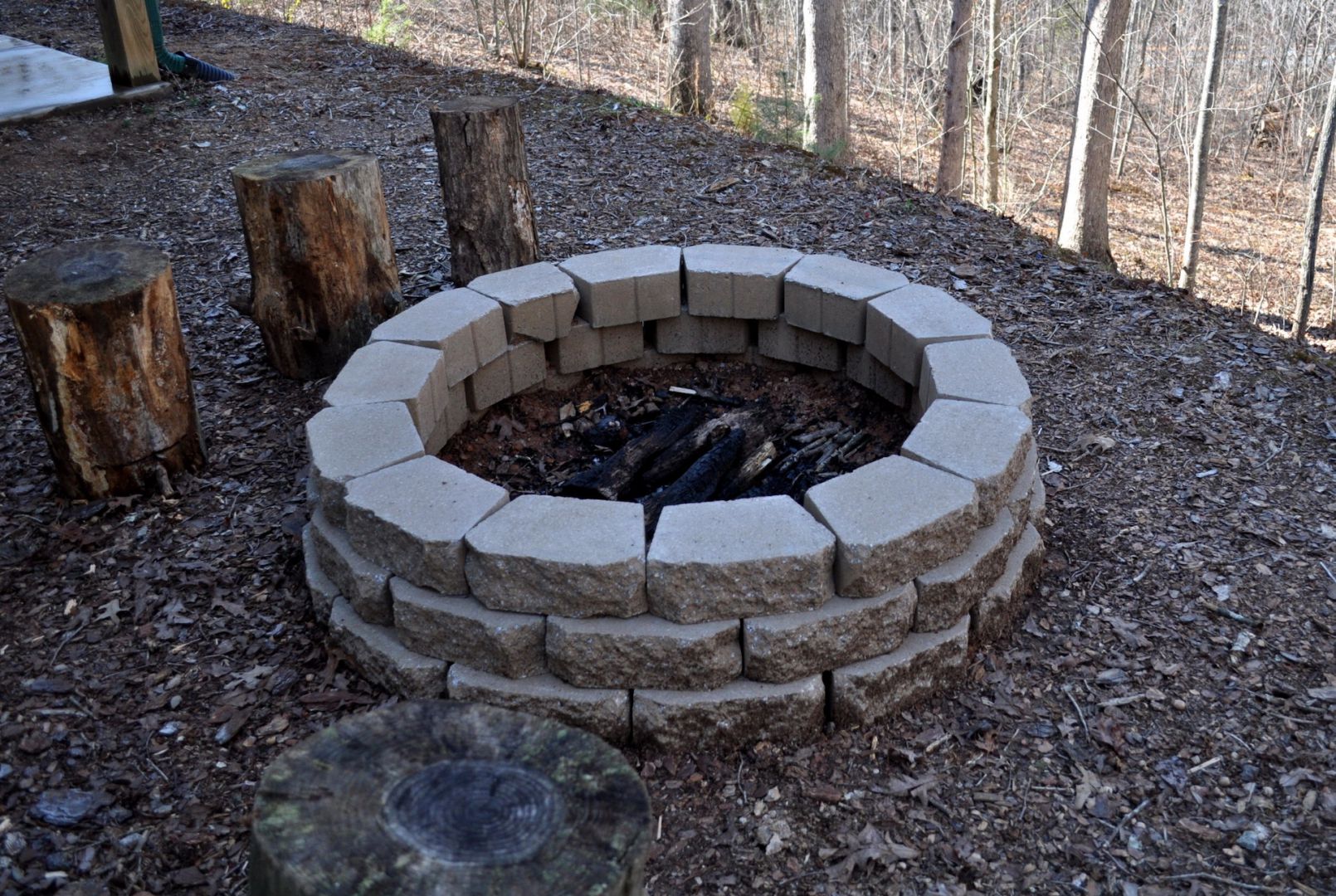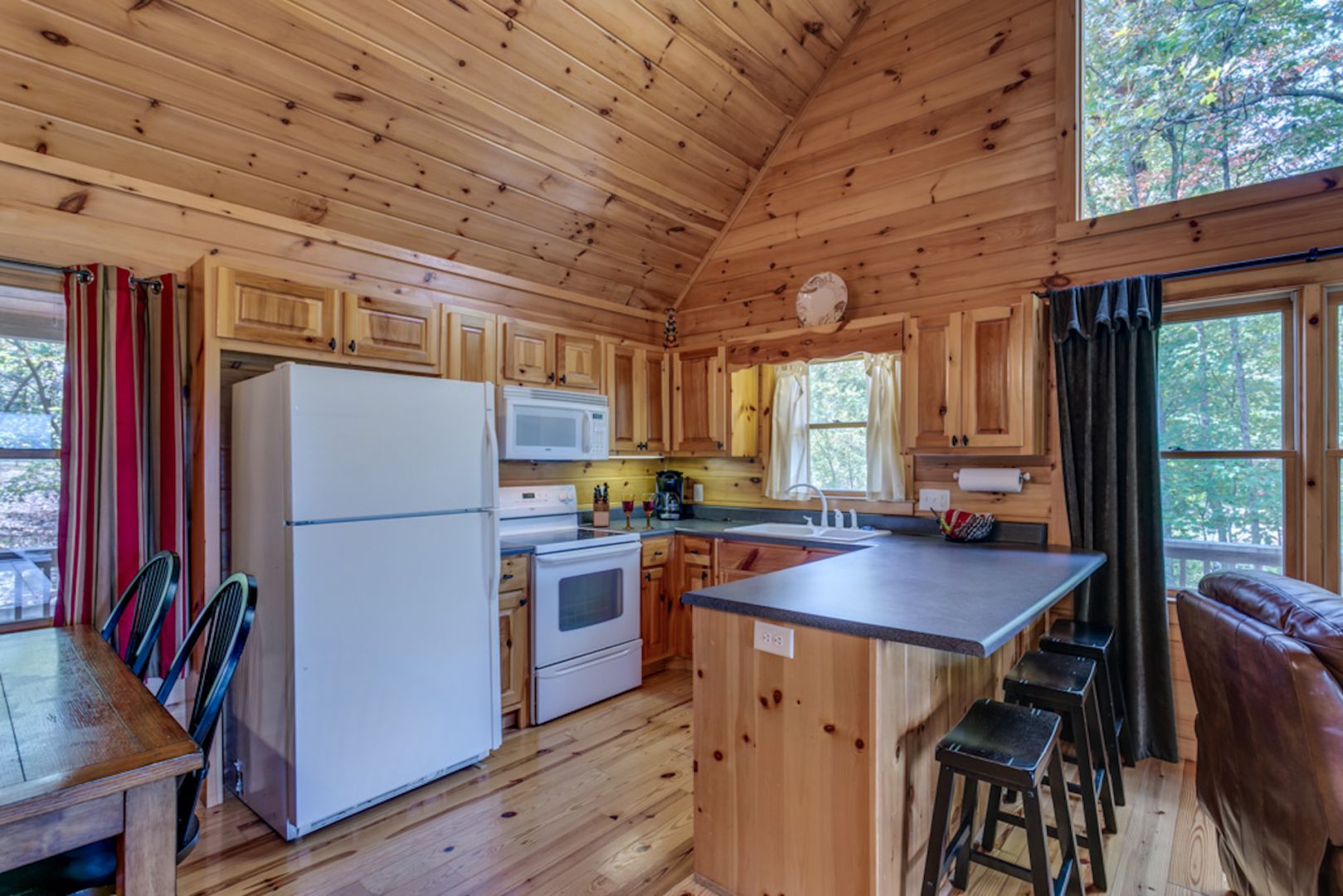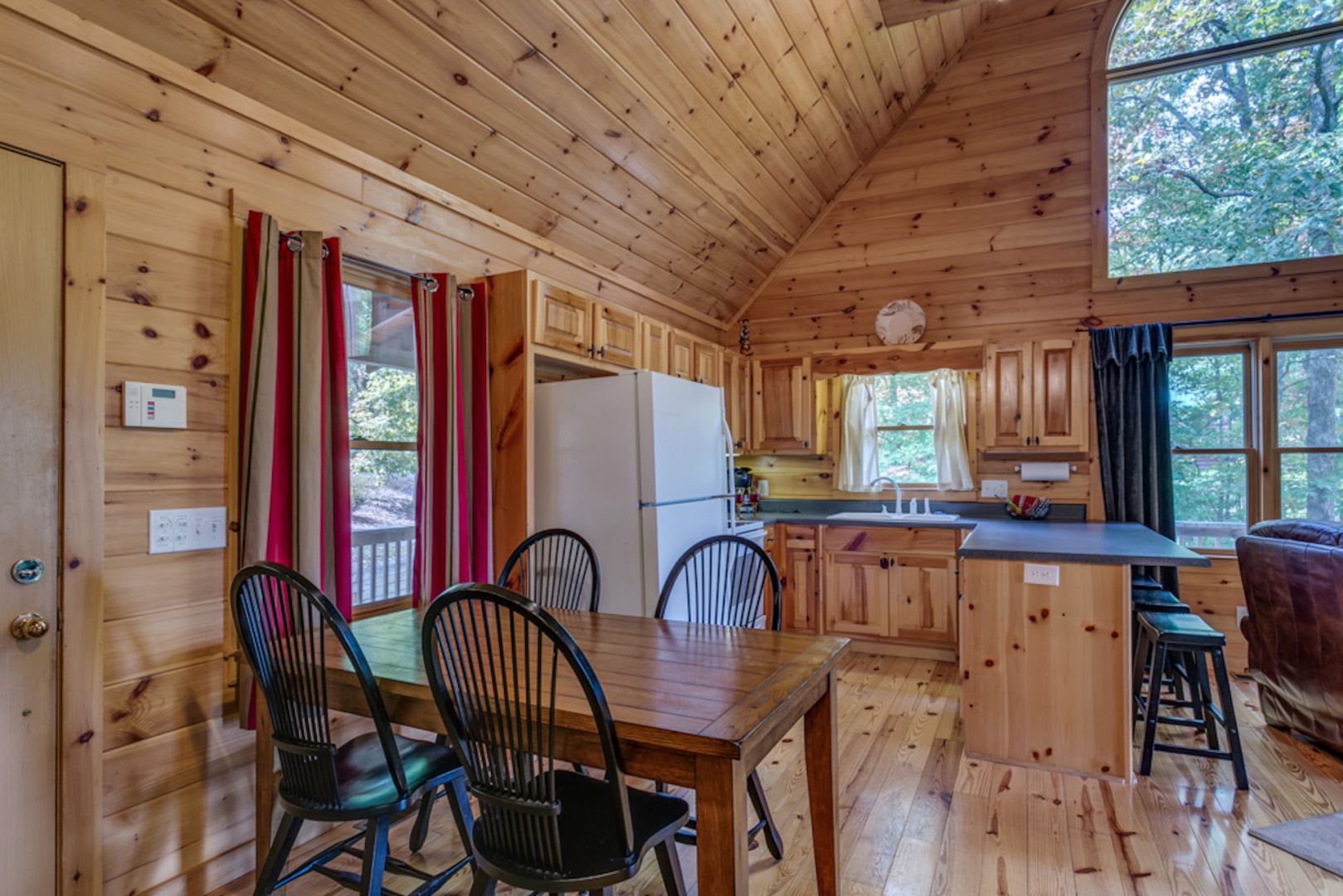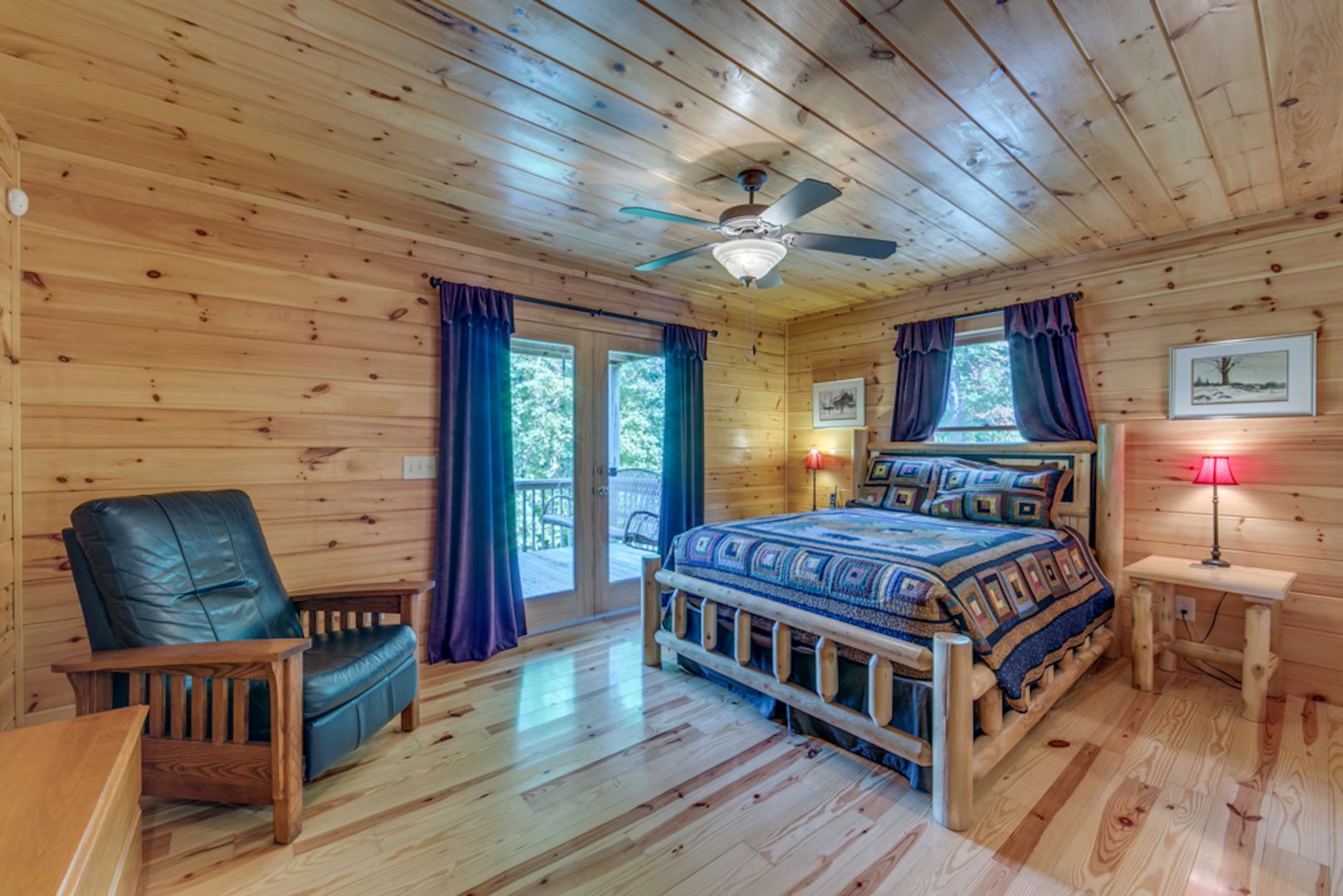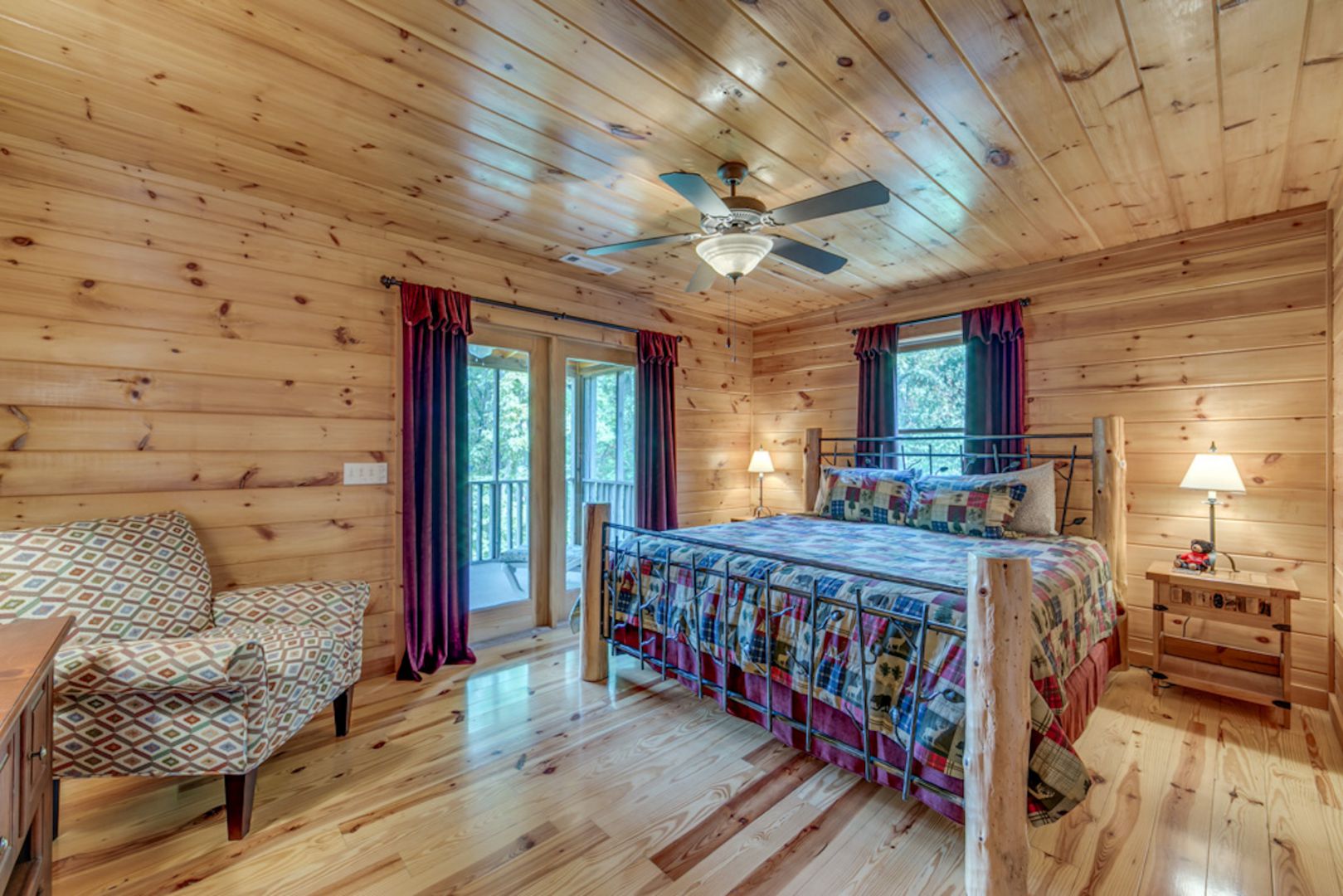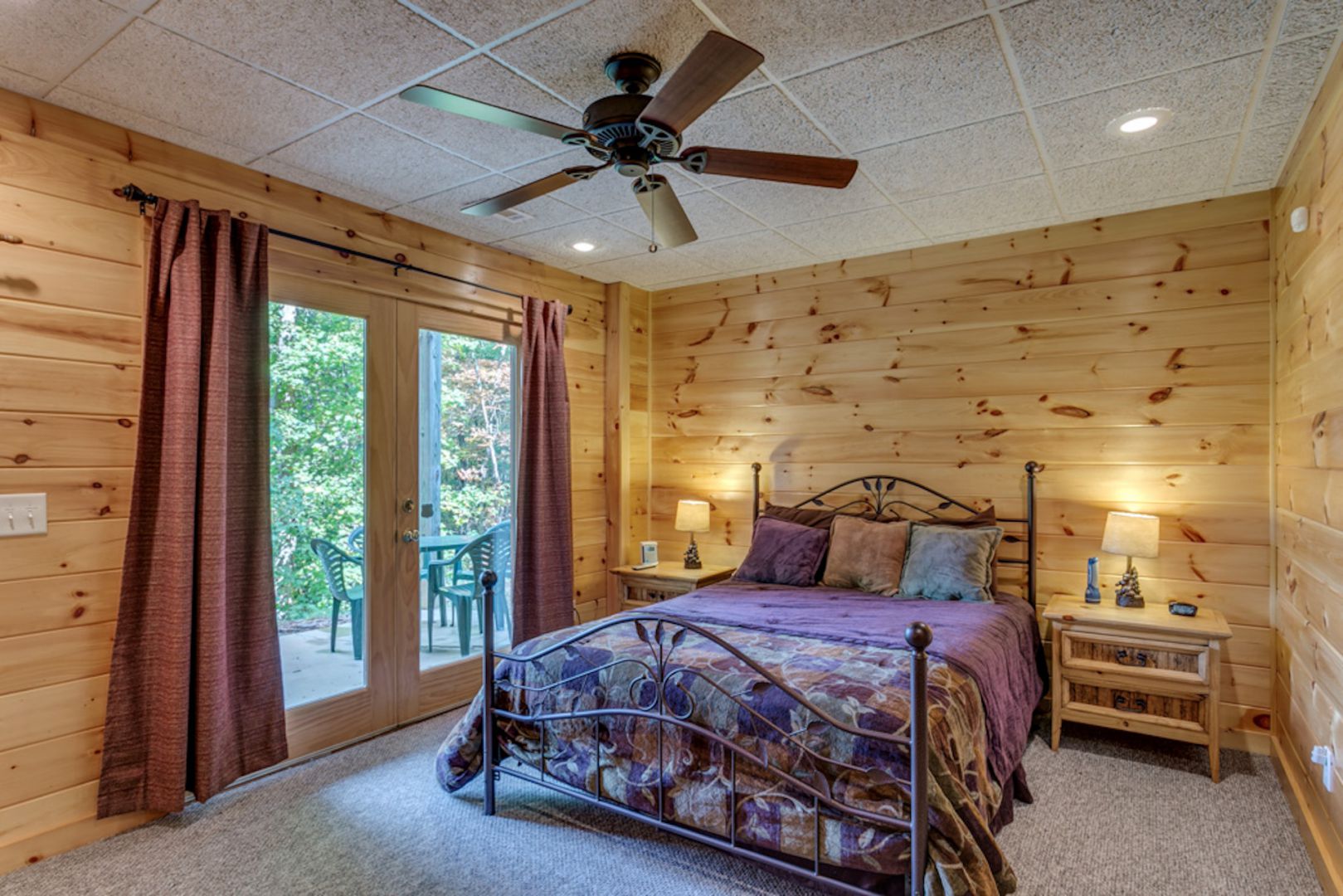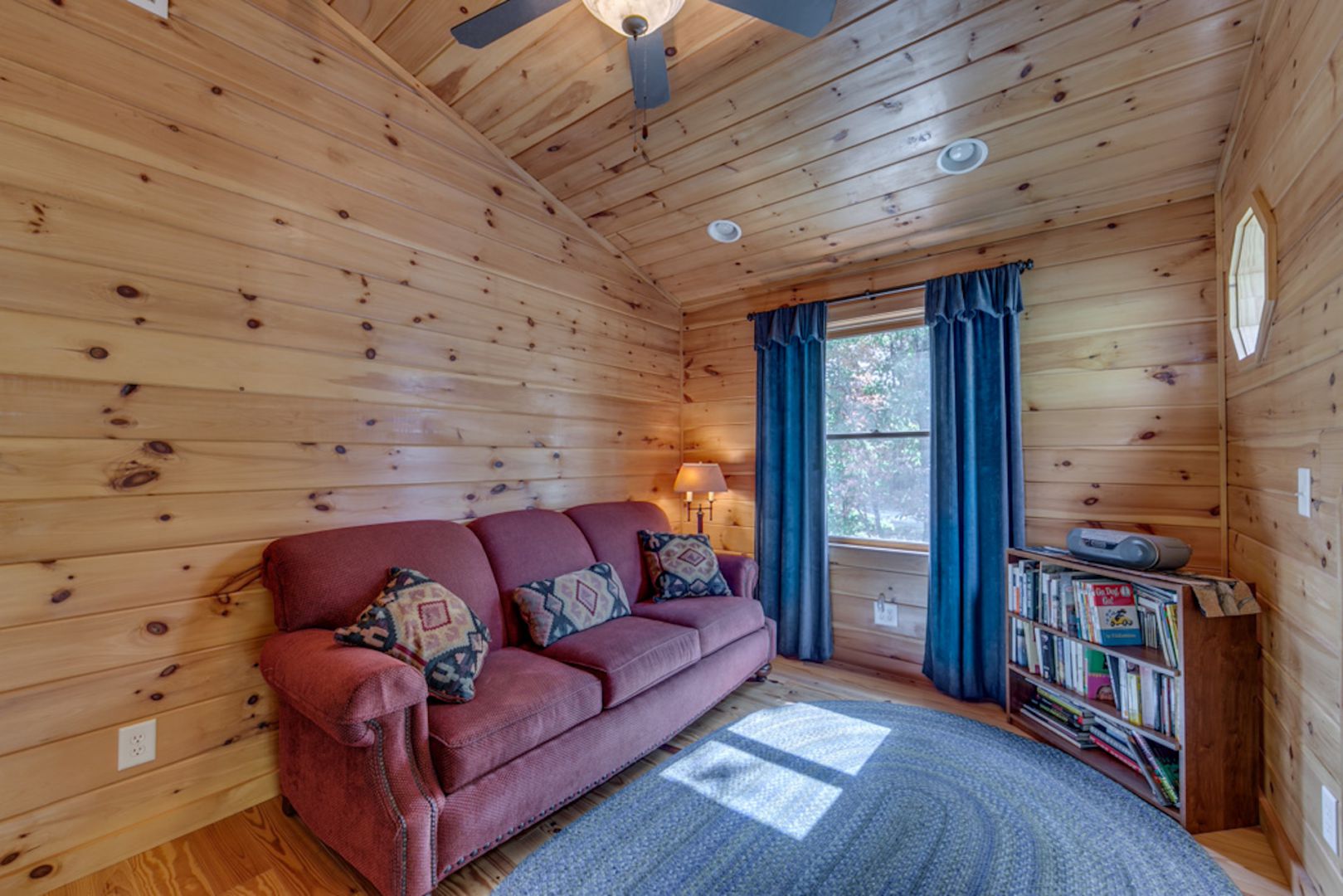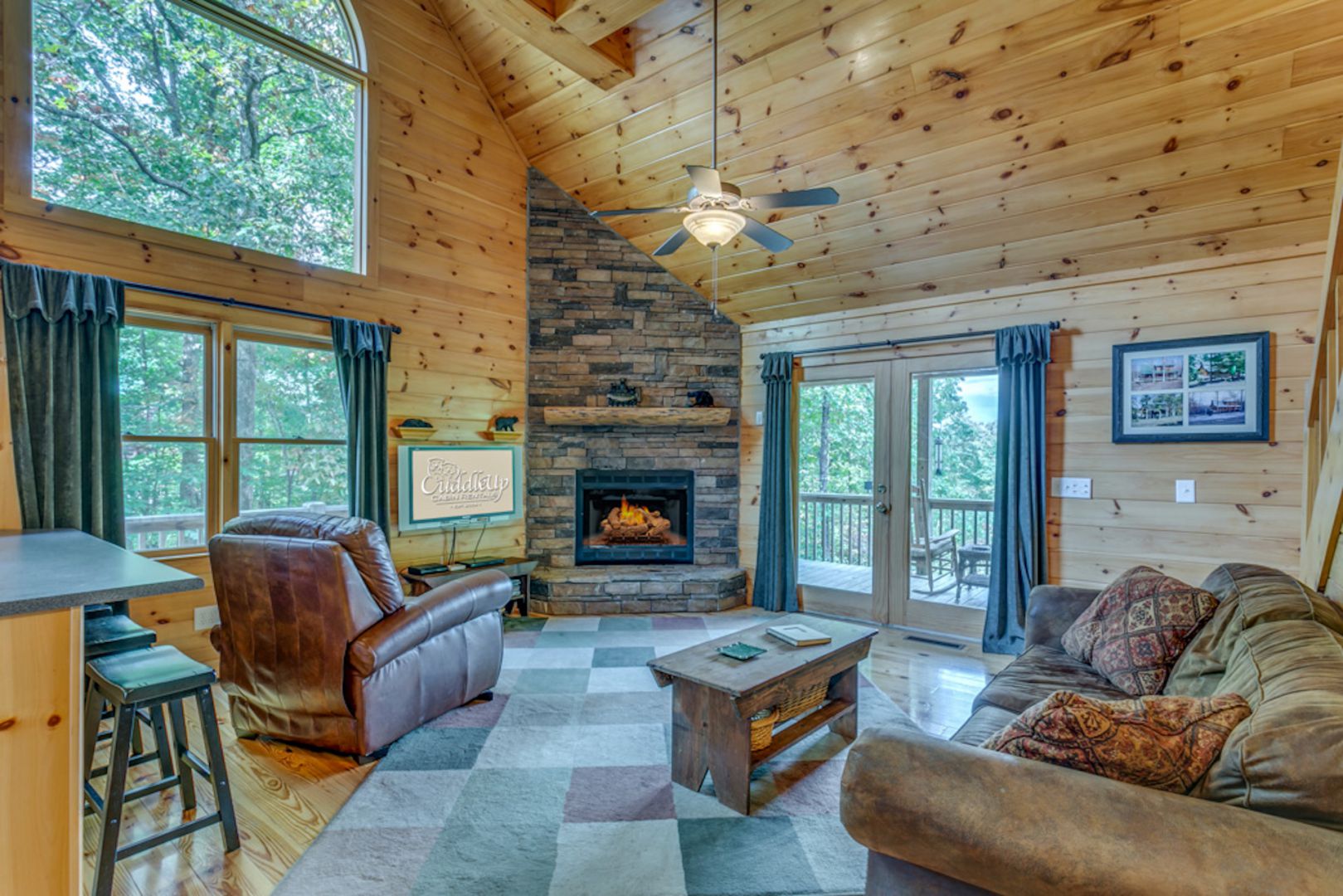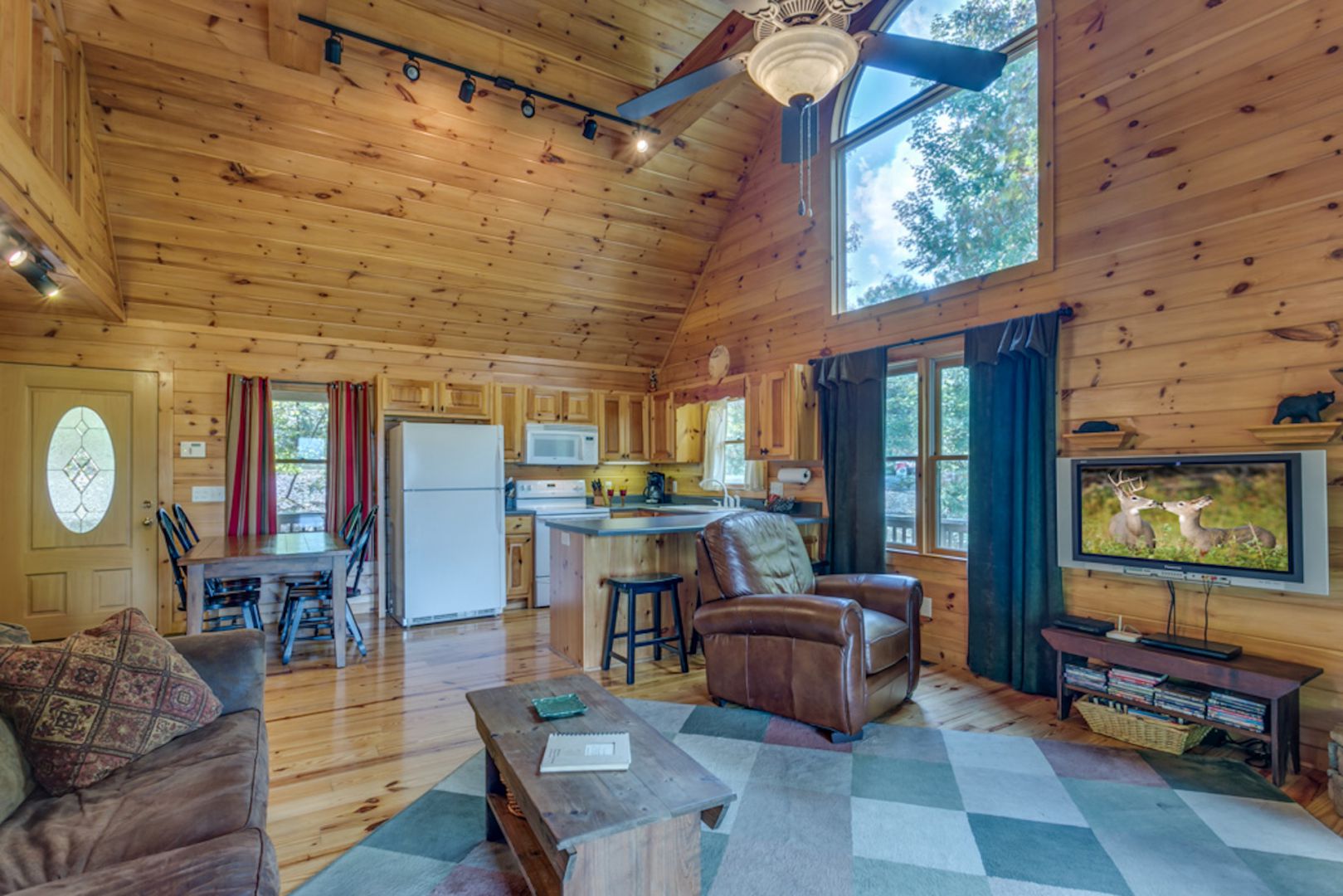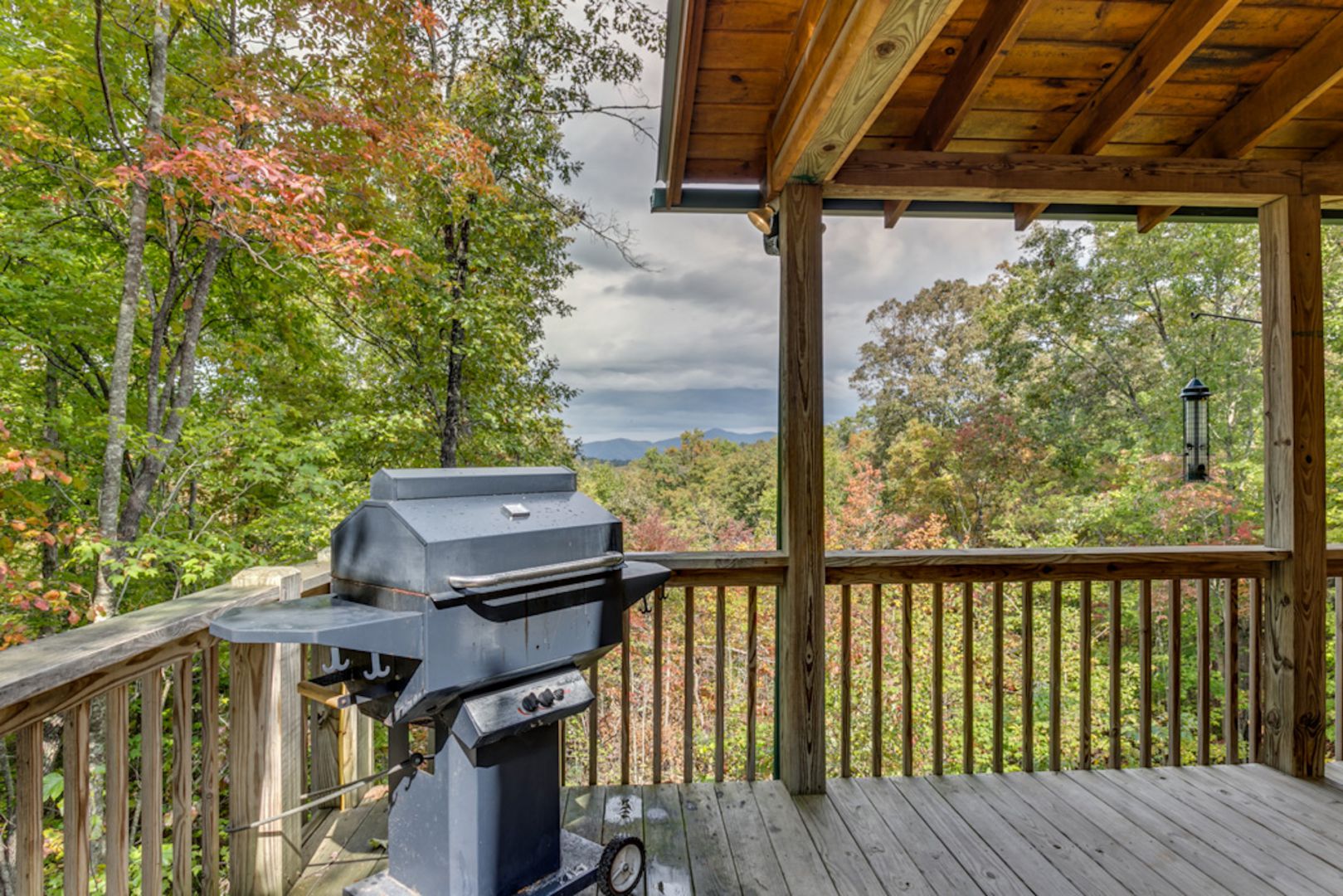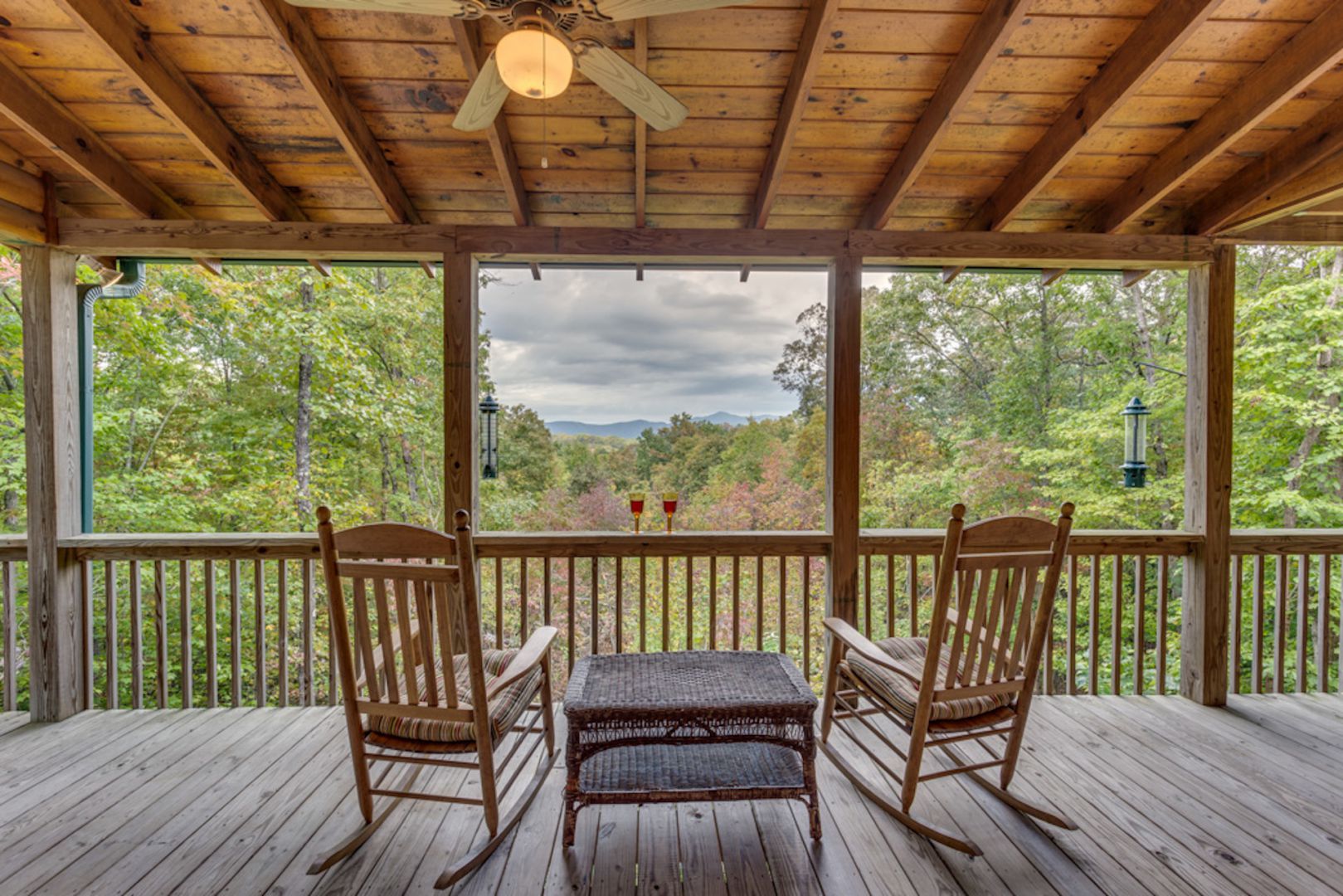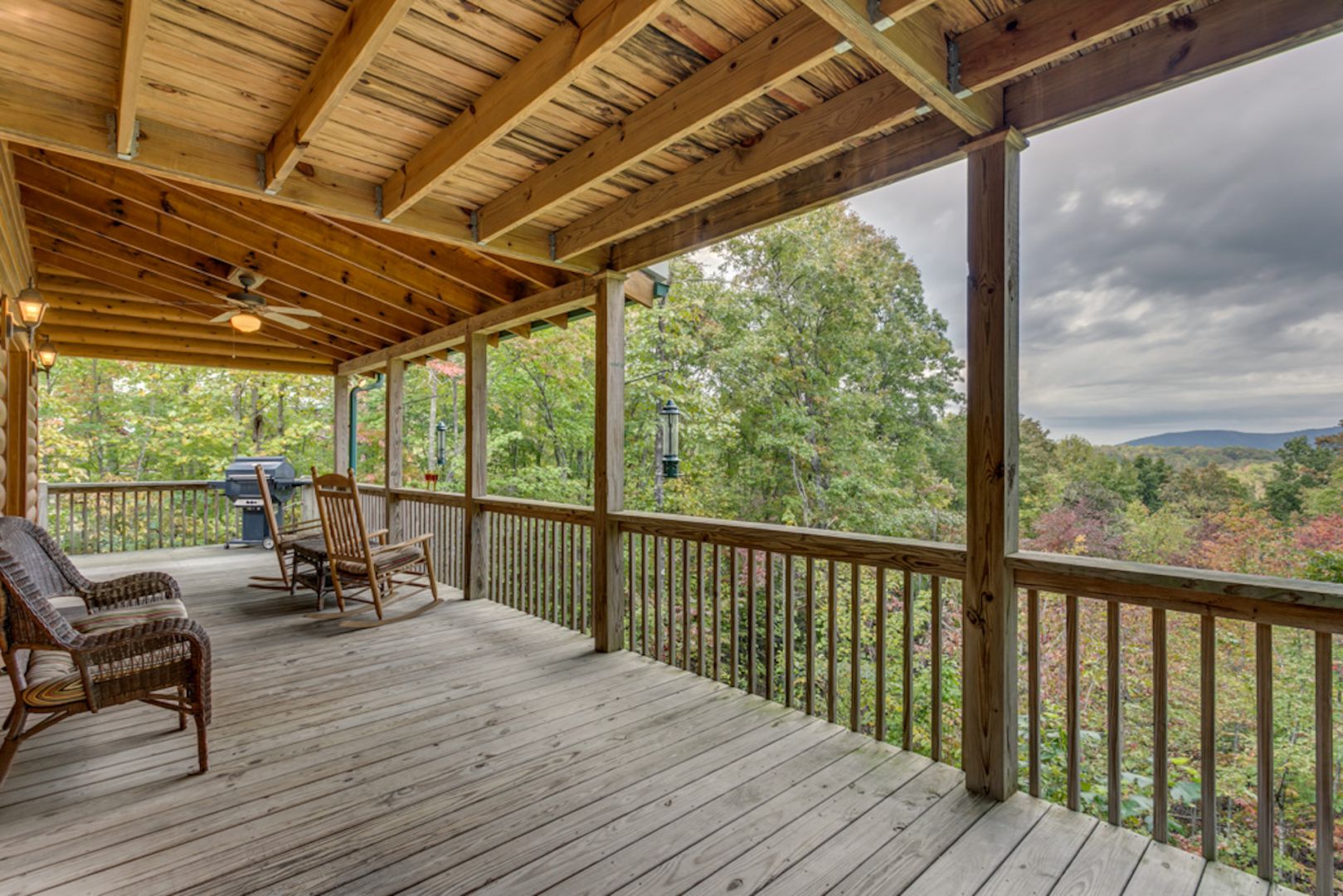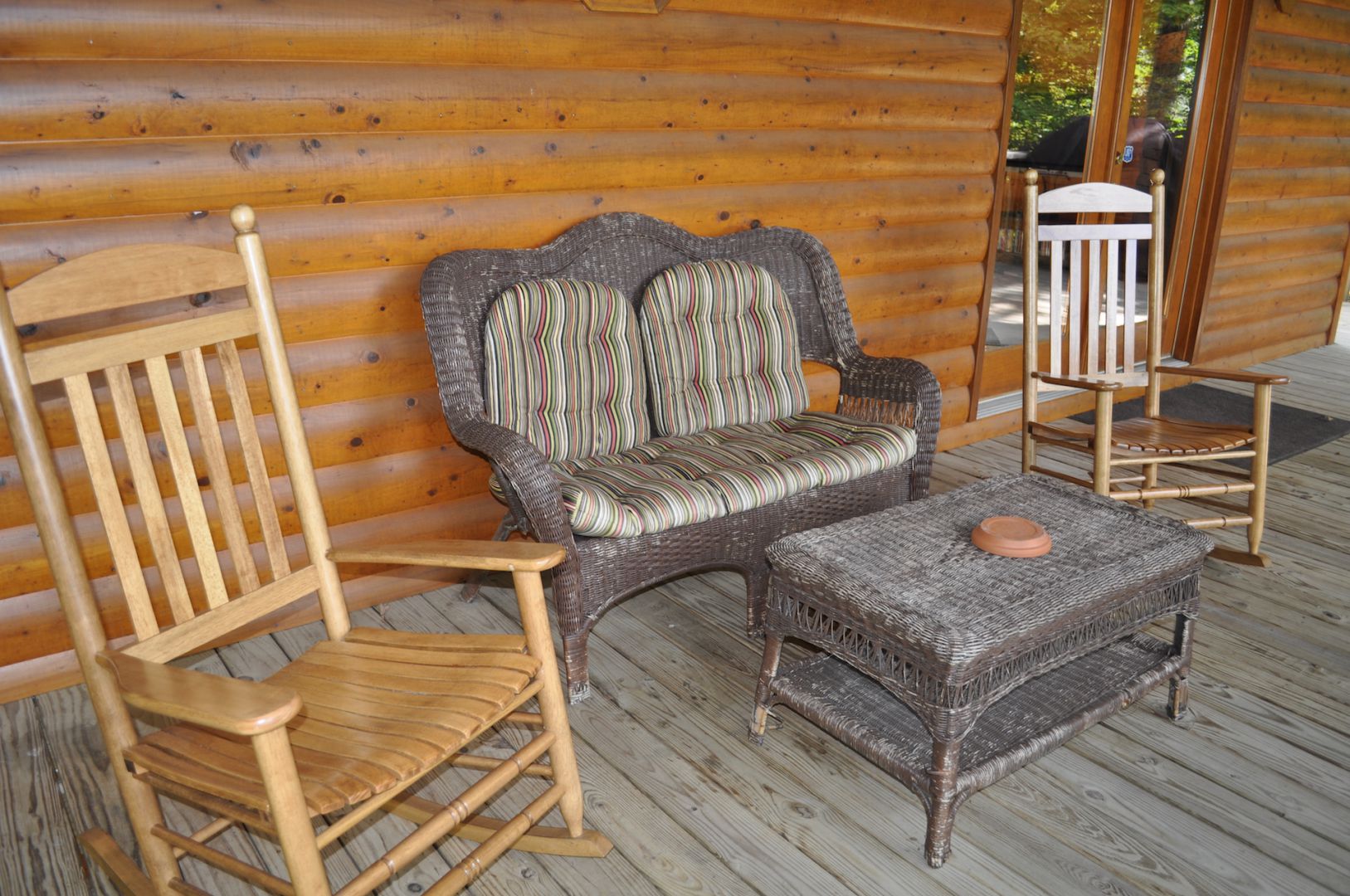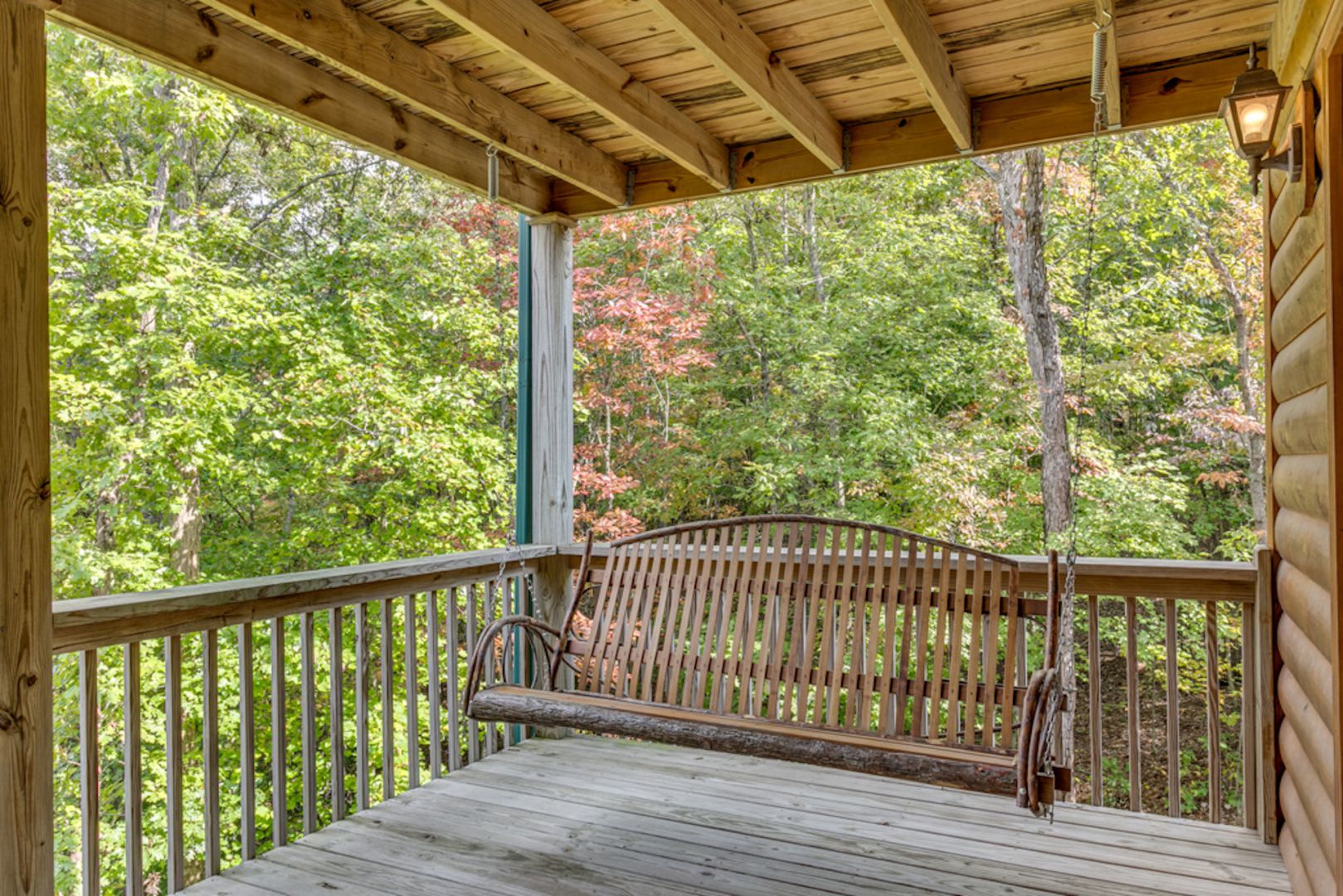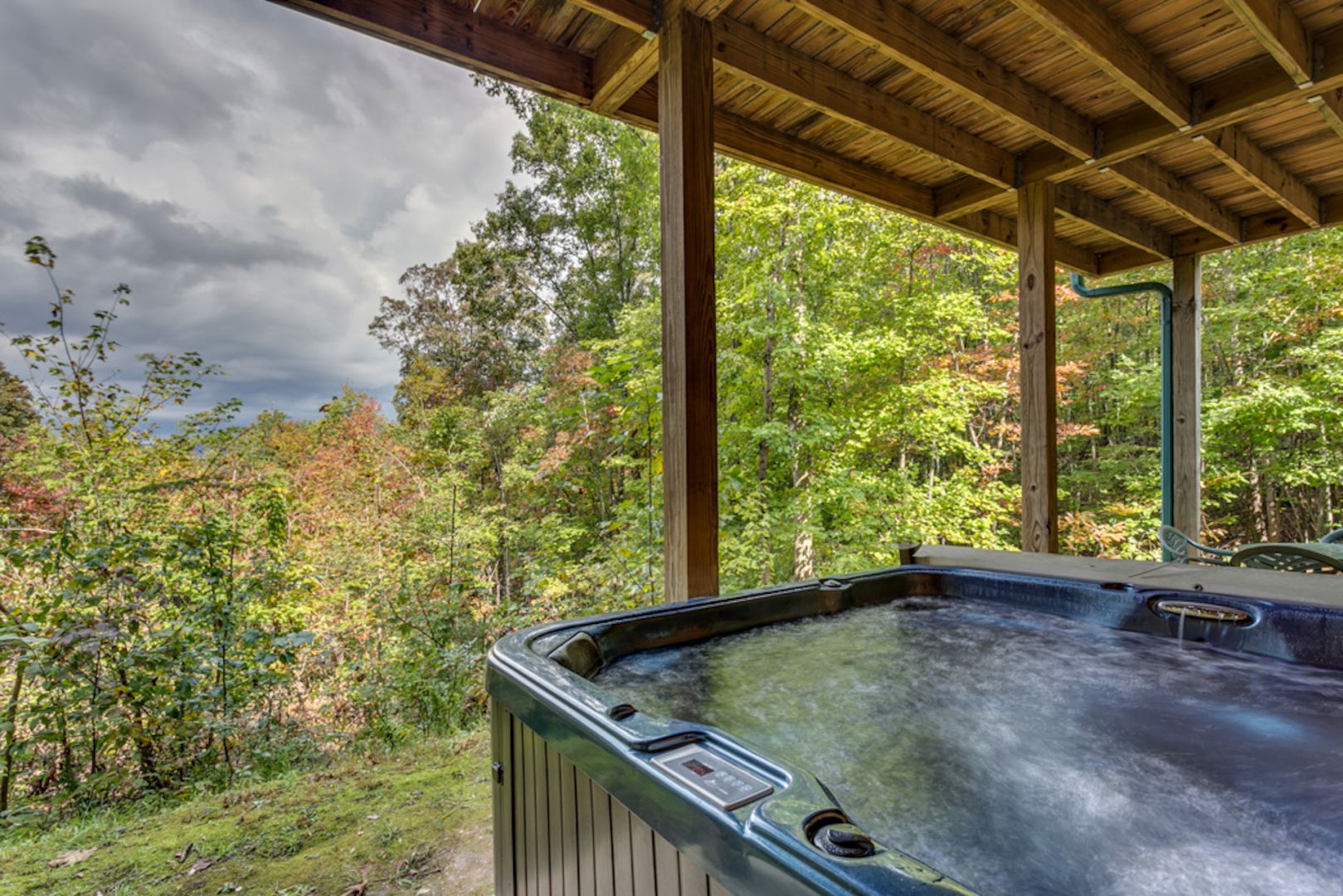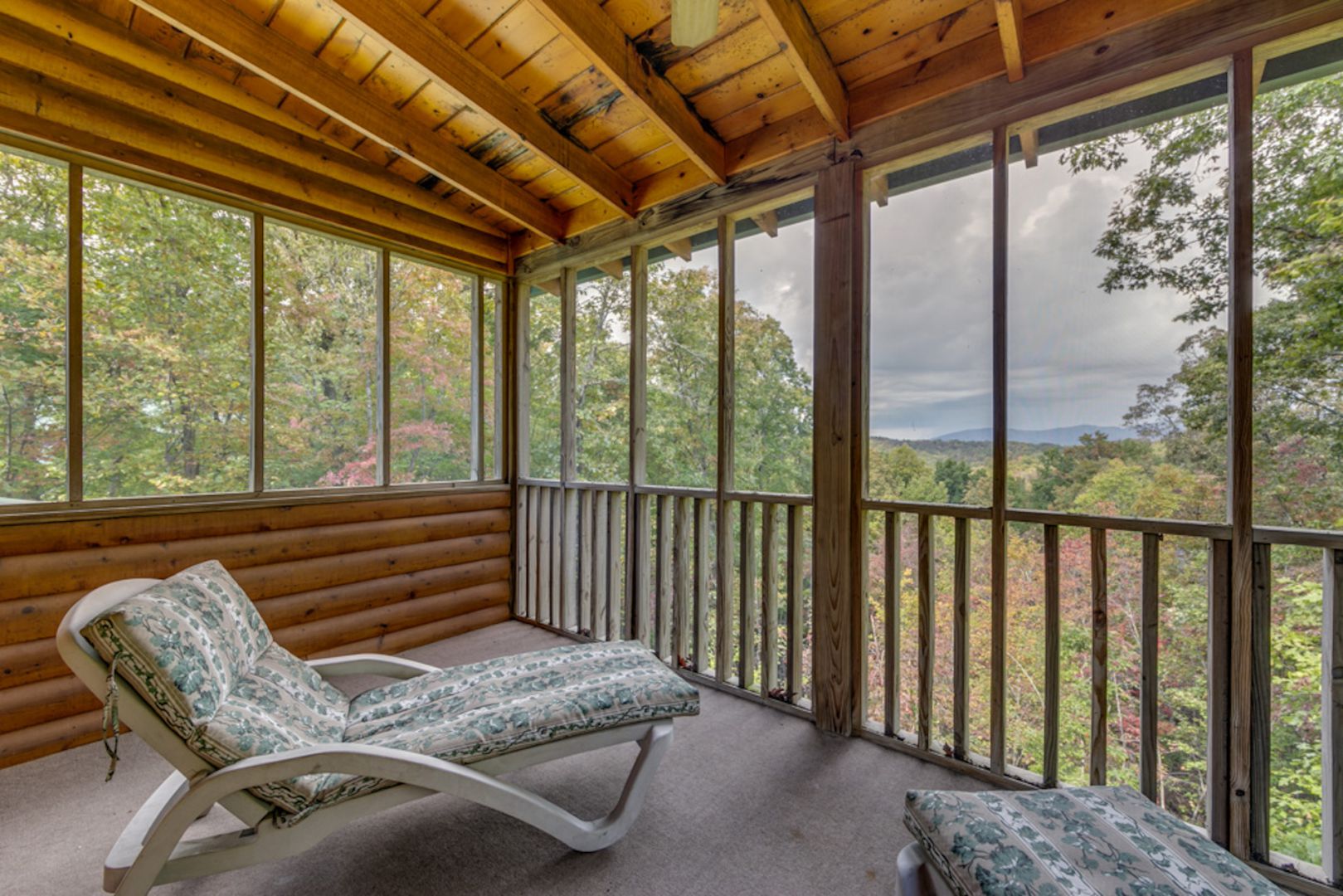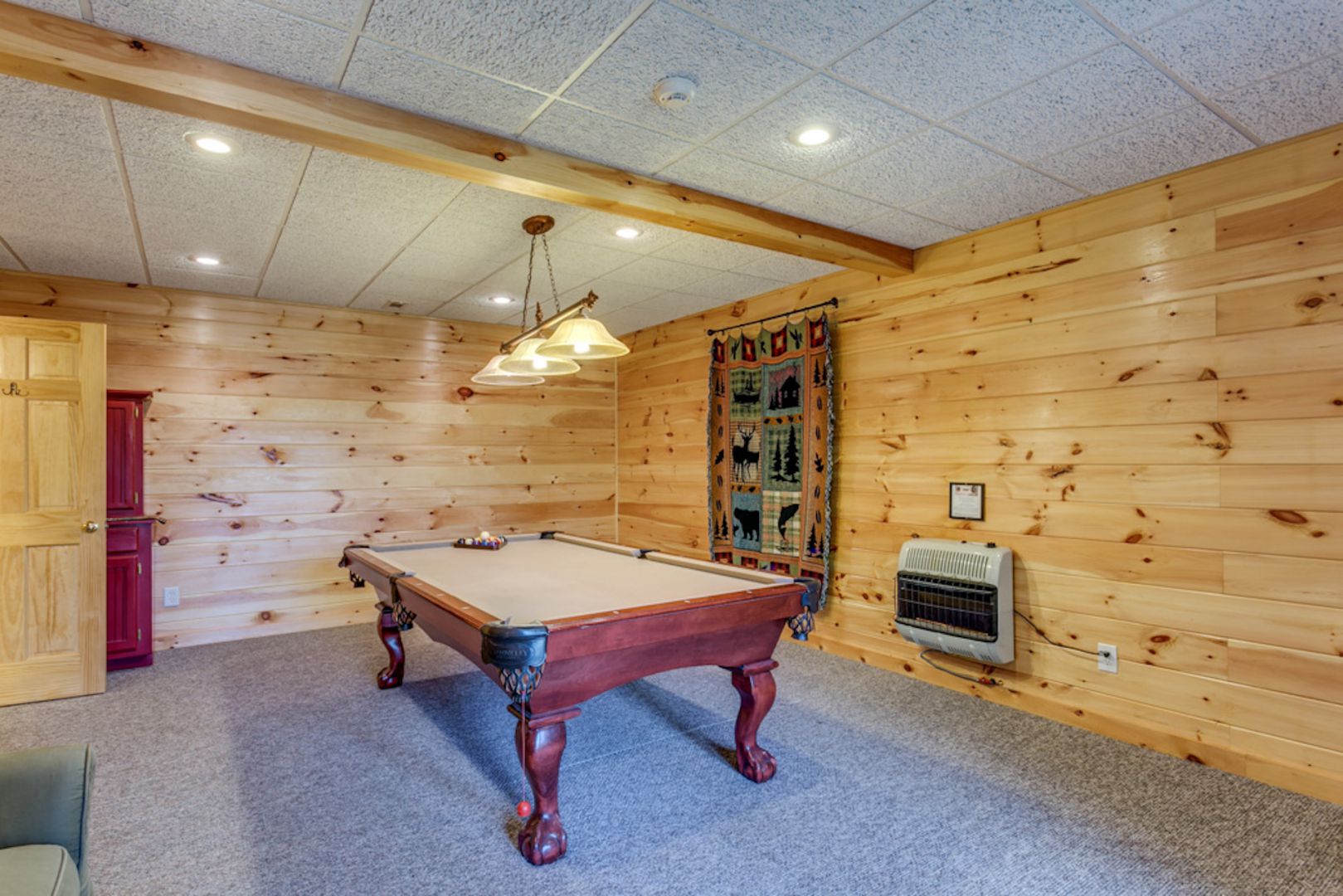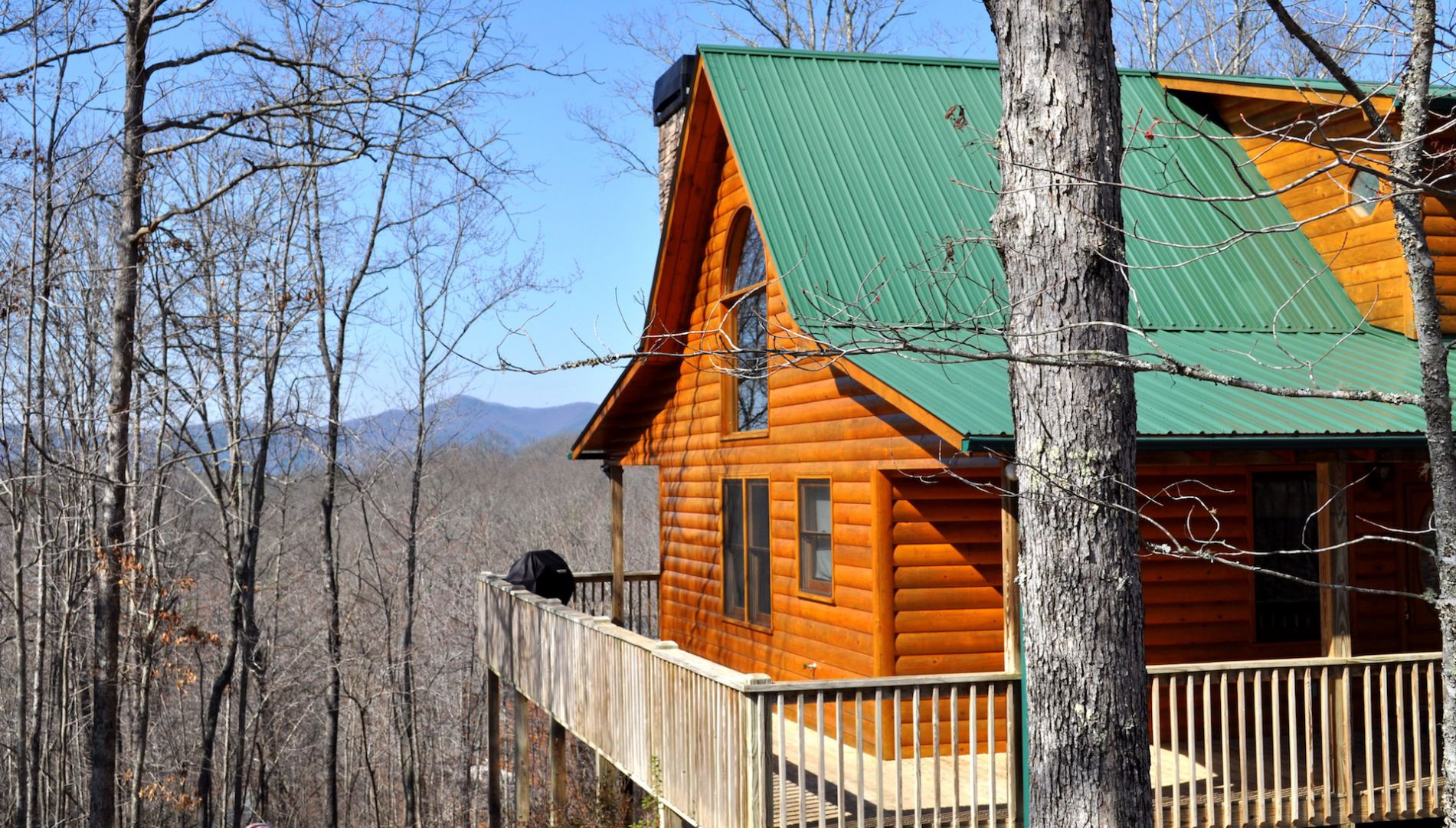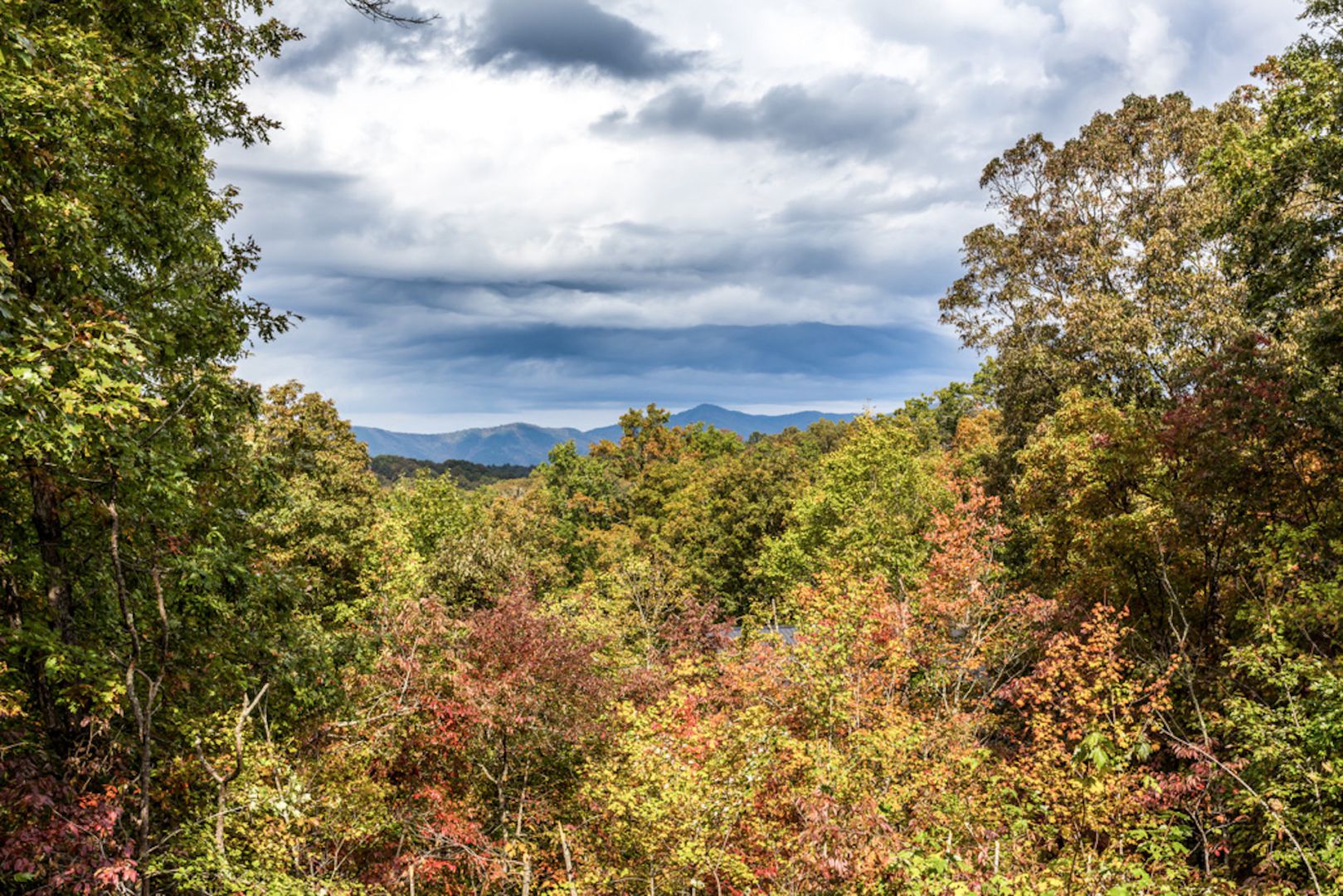 «
»
| | |
| --- | --- |
| Guests | 10 |
| Bedrooms | 3 |
| Bathrooms | 3 |




Description
When it comes to a fantastic location, this cabin rental near the Ocoee River and McCaysville gives you access to whitewater, tubing, trout fishing, mountain bike, hiking trails, and joys of being cozy in a comfortable accommodation. You are under 10 minutes to the Ocoee River and white water rafting and this rental cabin is large enough to comfortably accommodate up to 10 guests. Your family or small group will enjoy the mountain views and the mountain community of Hideaway Falls. Although its location is one of its greatest amenities, this cabin rental also combines the classic charm of a mountain cabin with all the luxury guests crave.
Basic amenities include WiFi, large flat screen televisions, a full size pool table, gas fireplace, private screened porch and stacked stone outdoor fire pit. Traditional leather sofas and cabin decor give Treetops a cozy ambiance with open spaces with sunlight streaming through the large windows. Each bedroom in this Ocoee River cabin rental features French doors that open wide to to the fresh air and mountain views. Whether you choose to enjoy the view from your private bedroom or you choose to take advantage of the wrap around porch, you have everything you need to make the most of the scenic views.
Spend an afternoon on the Ocoee River, rafting or fishing, or hiking along the Tanasi Trail System. You might like to go horseback riding too with Blanche Manor. Before you return to civilization, spend some time enjoying the fresh pie at the Cider House Cafe.
Amenities
Living Area
Seasonal Gas Fireplace*
Flat Screen with DVD player
WiFi
1 queen sleeper sofa in living room
Seasonal fireplace use is October 1 – March 31 Cabin does NOT allow pets
Outside Area
Gas Grill
Propane for Gas Grill
Fire Pit
Hot Tub
Guests must provide firewood for outdoor firepits and fireplaces
Other Amenities
Washer & Dryer
Central Heat & Air
Kitchen Area
Plates, bowls, glasses, & flatware to match cabin occupancy
Basic kitchen utensils
Basic kitchen pots & pans
Microwave
Blender
Coffeepot & filters
1 Roll Paper Towels
2 Dishwasher Detergent Packs or Hand Dish Soap
1 Kitchen Trash Bag
Bedrooms
Main Level Master Suite with Queen Bedroom
Loft Level Master Suite with King Bed
32in Flat Screen TV & private balcony
Open Sleeping Loft Queen Sleeper Sofa
Terrace Level Queen Bedroom
Area Activities
Whitewater Rafting on Ocoee River- bring your sunscreen & no slip water shoes!
Tubing on the Toccoa River
Blue Ridge Scenic Railway- bring your camera
North Georgia Mountain Trout Fishing
Zipline & Canopy Tours
Hiking
Horseback Riding- bring your jeans and sneakers!
Mountain Biking
Shopping & Dining in Historic Downtown Blue Ridge
Shopping & Dining in Downtown Copperhill TN & McCaysville GA
Calendar

Available

Check-In

Check-Out

Booked
Rates
* Rates are subject to change without notice. Pricing excludes taxes, additional options and fees.
| | | | | | | | | |
| --- | --- | --- | --- | --- | --- | --- | --- | --- |
| Vacation Rental Standard Pricing | Sun | Mon | Tue | Wed | Thu | Fri | Sat | Min Nights |
| Low Season | $150 | $150 | $150 | $150 | $150 | $150 | $150 | 2 |
| Mid Season | $150 | $150 | $150 | $150 | $150 | $150 | $150 | 2 |
| Peak Season | $150 | $150 | $150 | $150 | $150 | $150 | $150 | 2 |
| Holiday Season | $150 | $150 | $150 | $150 | $150 | $150 | $150 | 2 |
---
Season
Sun
Mon
Tue
Wed
Thu
Fri
Sat
Min Nights
Fall Color & Festivals
9/27/2019 - 9/30/2019
$150
$150
$150
$150
$150
$150
$150
3
Fall Color & Festivals
10/3/2019 - 10/7/2019
$150
$150
$150
$150
$150
$150
$150
3
Fall Color & Festivals
10/10/2019 - 10/14/2019
$150
$150
$150
$150
$150
$150
$150
3
Fall Color & Festivals
10/17/2019 - 10/21/2019
$150
$150
$150
$150
$150
$150
$150
3
Thanksgiving Holiday
11/25/2019 - 12/2/2019
$150
$150
$150
$150
$150
$150
$150
4
Christmas Holiday
12/20/2019 - 12/26/2019
$150
$150
$150
$150
$150
$150
$150
5
New Years 2019
12/27/2019 - 1/1/2020
$150
$150
$150
$150
$150
$150
$150
4
---
Reviews





Clean, easy accommodations for a big group, bug screened porch and non chlorine smelling (but clean) hot tub for the win
Lowe Family
August 25, 2019





Just what you need! A king, two queens, two pull out couches, and a wraparound porch that your babies won't fall off of while you drink your coffee in the rocking chair! It was a treat
Beers Family
August 11, 2019





This cabin is great! We drove up from Birmingham, AL, Friday morning. Prior to arriving at the cabin, we drove over to the Nantahala and kayaked the river. After the Nantahala River, an easy one hour drive had as at the front door of the cabin. While on the Nantahala River, Gina with Cuddle Up called. I didn't have my phone with me, but she left a very polite voicemail making sure we had the necessary information to get both to, and into the cabin when we arrived. There is an after hours line you can call if you need assistance outside of office hours, but we never needed to call. The cabin was very clean and just as described in the listing. Saturday, we did a full day rafting trip on the Ocoee River. No joke, this cabin is only 10 minutes from the Ocoee Adventure Center, which is who we used as our outfitter. The OAC is basically right on the Ocoee, so if your planning a whitewater adventure weekend, the convenience of this cabin can't be beat. Each bathroom was stocked with two bath towels, two hand towels, four wash clothes and a bathmat. There was also a roll of toilet paper and two bars of hand soap in each bathroom. The kitchen was stocked with four hand towels, hand soap, a roll of paper towels, a few trash bags, and dishwasher detergent for two loads. Don't hesitate to bring your groceries, as the kitchen is fully stocked with any and everything you might need to cook for yourself. Oddly enough, there was plenty of salt and pepper and some ice packs in the freezer if you needed to use these for a cooler during an outing. There was even a crock-pot. The coffee maker had a wire mesh screen filter, so no need to bring coffee filters. The gas grill on back porch worked without a hitch. There wasn't an electric starter, but we did find a supplied grill lighter in a drawer to the far right of the dishwasher along with grilling utensils. Gas supply for the grill is hard lined, so no need to bring your own propane. Grill brushes were supplied too. There is also a dedicated grill flood light which was a nice touch. We didn't use the laundry room but it had a washer and dryer, with detergent and dryer sheets for a couple of loads. All three rooms had exterior access to either a porch or patio. All three rooms have a ceiling fan and a TV. The pull-out sleeper sofa is in the upstairs loft, next to the master suite. Four beds total. The hot tub was very clean. The pool table was in great condition with plenty of cues sticks, chalk, and extra cue tips in stock. There is a rack for both 8 Ball and 9 Ball. The pool room also has a TV and plenty of board games for endless family fun during your stay. The middle level features a big wrap around porch with beautiful mountain views and plenty of seating: rocking chairs, a picnic table, and a porch swing. The gas grill is also located on this porch. Smoking is not permitted inside the cabin, but is allowed outside. There are supplied ash trays and a butt bucket to aid in properly disposing your extinguished cigars and cigarettes. The WiFi worked without a hitch and there were no issues with TV reception. The thermostat for climate control is easy to use and the house cools (we were there in late June) very efficiently, especially with the ceiling fans. Another great thing about the cabin was that all light switches are properly labeled, which removes the guess work in an unfamiliar abode. We will definitely rent this Cabin the next time we need lodging in the area, and you should to. You will not be disappointed.
Somerall Family
June 23, 2019
Additional Information
Cabin Notes
Check In 4:00 pm EST
Check Out 11:00 am EST
$300 payment required at time of booking or payment in full if arrival is less than 2 weeks away
Must be 25 years old to rent cabin
Cabins cannot accommodate weddings, rehearsals, or large parties
Even last minute reservations are subject to cancellation penalties
Welcome Package
1 Roll Paper Towels
1 Roll Toilet Paper per Bathroom
1 Kitchen Trash Bag
Single Use Laundry Detergent
2 Dishwasher Detergent Packs or Hand Dish Soap
Complimentary bath soaps
What To Bring
Toilet Paper (ONLY 1 starter roll provided)
Paper Towels (ONLY 1 starter roll provided)
Trash bags
Firewood for cabins with Outdoor Fireplace or Fire Pit & bug repellent
Flashlight
Personal Toiletries (hair dryer, shampoo, toothbrush, etc)
Camera & Phone Charger
Sunscreen, Life Jackets, & No-Slip Water Shoes for Waterfront Cabins
Beach Towels for cabins with Hot Tubs
Long Distance Calling Card (all cabins have long distance block)
Property Rating:





Management Rating: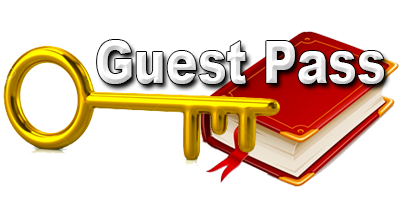 Featured Rental Cabin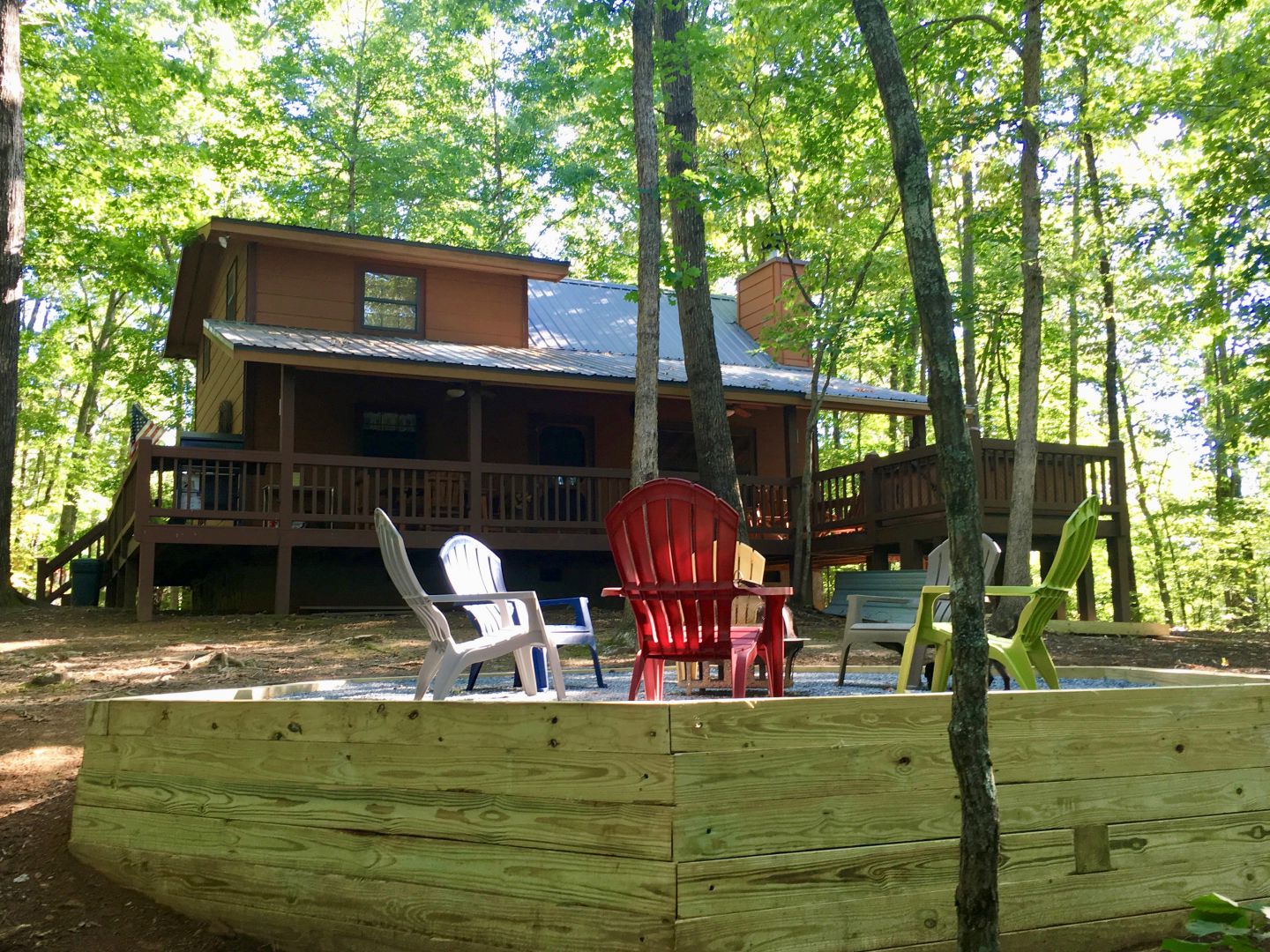 Blue Ridge
5 Guests
2 Bedrooms
2 Bathrooms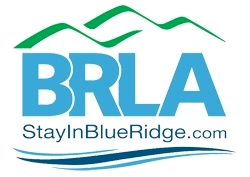 Blue Ridge Loging Association